Bathing resort Rimini
Rapid development through bagni
With the opening of the first public bathing beach on 30 July 1843 Rimini's unique rise to tourism hotspot began. The city's inconsistent history hindered the development of suitable structures for a long time. Today, approx. 250 bagni (public bathing beaches) exist impressing not only by their sheer mass, but also with their standards and Rimini's unrivalled beach. The era of the "Teutonic grill", however, is long gone.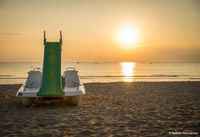 Gaining a historical foothold
For a long time, Rimini could not gain ground. Its time as a Roman municipium was an initial historical highlight; it took a while after the Migration Period until another upswing began, set in motion by the Malatesta. Rimini became a metropolis of fine art under their reign before the incorporation into the Papal States stunted development once more. When the first public bathing beach was opened on 30 July 1843, Rimini took on form as a bathing resort. Wealthy citizens and nobility commenced construction of elegant summertime mansions on the beach or stayed at the Grand Hotel, which opened in 1908 and still exists.
"Teutonic grill" Rimini and thereafter
Rimini saw its major boom in the 60s when more and more Germans spent their holidays here introducing the city to mass tourism. The term "Teutonic grill" that made Rimini famous as a hotspot for German tourists originates from this period. This boom lasted for about two decades before Germany discovered lower-costs alternatives such as Mallorca and Lloret del Mar. Prolific algae growth added to the temporary cooling-down of this once steaming hot bathing resort. With no new boom of German tourists setting in and the algae crisis having been dealt with, the region entered the market for new touristic fields. Nowadays mostly Russian and domestic tourists enjoy sunny, beautiful Rimini and its vast beaches.
250 bagni for great bathing fun
Rimini's exceptional infrastructure helped it to become one of Italy's strongest and most popular bathing resorts today. 1,500 hotels welcome guests enjoying themselves on about 10 kilometres of beach in approx. 250 public bathing beaches (called "bagni" in Italian). Due to its sheer mass the bagni are nameless and were simply numbered serially for better guidance. They are divided into the zones Marina Centro, Bellariva, San Guiliano Mare, Rivabella, and Viserba. Here one finds beach furniture, cool drinks and the best of the regional cuisine: pizza, pasta and panini. New (water) sports activities are constantly being invented and discovered wowing bathers with their innovations and high degree of variety. Lease of beach furniture is mandatory. Public beaches, e.g. near Piazza Boscovich or in San Guiliano Mare, can be found as well with some beaches allowing dogs.
Bathing fun in Rimini is guaranteed with this great variety of bagni and level of entertainment.