Piazza Cavour
Square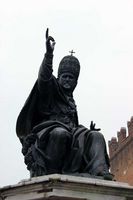 Piazza Cavour
Central city square in Rimini
Piazza Cavour was the centre of medieval city life in Rimini. Even though the beautiful city square has become less important in subsequent years, it remains the magical, pivotal point of every city tour. On the square itself, the impressive statue of Pope Paul V and Fontana della Pigna, the pine fountain, are particularly striking. The daily fish and vegetable market used to take place around the fountain.
Palaces around Piazza Cavour
One can take a look at the stony sales booths of Vecchia Pescheria, the old fish market, around which numerous good restaurants and bars are arranged today, directly next to the pine fountain. The pinnacle-crested Palazzo dell'Arengo rises right vis-à-vis. The Gothic-Roman palace was built in 1204 and served as a union hall for public gatherings and as a place of court. Palazzo del Podestà is located right next to it. Built in Gothic style, it served as the residence for the city's mayor. The rope for hanging kings used to hang in the middle front arch.
Palazzo Garampi is situated at the front end of the square. To this day, it is the site of the community and was built by Francesco Garampi in 1687 on the ruins of its preceding building from 1562.