Pennabilli
Place of Interest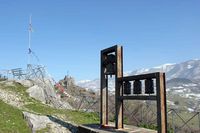 Pennabilli
Lovely small town on two hills
The beautifully situated small town of Pennabilli stretches across two hills. A castle used to majestically loom on each of the hills – one castle for the village of Penna, one for Billi. The unification of both villages to Pennabilli was agreed in 1350 – the Stone of Peace on market square is reminiscent of this occurrence. Even the city arms reflect the erstwhile independence of both villages bearing two towers spanned by a grand eagle.
Sights in Pennabilli
Pennabilli's main house of prayer is the cathedral on the main square. It was built in the 16th century on the occasion of relocating the Episcopal see from San Leo to Pennabilli. The Fountain of Peace in the square's centre was erected on the site of the contract signing to unite the two villages. Worth seeing as well is the 11th century Church of Our Lady Beata Vergine delle Grazie. Inside it harbours the Gothic fresco "Madonna Enthroned and Child". Legend has it that the fresco's Madonna shed tears on a Friday in March of 1489, which has since been known as "Beautiful Friday". Likewise interesting is the Tonino Guerra museum, which hosts a good collection of scripts, writings and movies of the famous Italian screenwriter.
Pennabilli and the Dalai Lama
Pennabilli maintains a close relationship to Tibet. The Pennabilli missionary Orazio Olivieri formed a mission station in Lhasa as well as Tibet's first printing press in the 18th century and released an Italian-Tibetan dictionary. The Dalai Lama visited the small town in 1994. The prayer wheels and numerous Tibetan flags on the ruins of the old Malatesta fortress commemorate this visit.