San Leo
Place of Interest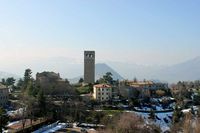 San Leo
Picturesque fortress town in Marecchia valley
Dante Alighieri already mentioned picturesque San Leo, certainly one of the Italy's most beautiful villages, in his "Divine Comedy". Thanks to its exceptional location on a towering rock, the Romans already built a fortification here in the 3rd century BC. San Leo gained real importance during Christianisation when the saints Leo and Marino founded the Christian communities San Leo and San Marino. St Leo, incidentally, is noted as the first bishop of the then diocese of San Leo – the first historically verified bishop, however, was Agathus. In the Middle Ages San Leo was ruled by the noble family Montefeltro, who were feoffed with the county by Emperor Frederick II. Similar to the San Marinese, the Montefeltro managed to resist the Malatesta of Rimini for a long time - with the extinction of the noble family San Leo fell to the della Rovere family, related to Pope Julius II, in 1508.
Sights in San Leo
The scenic historic centre has lost little of its original beauty and exudes a very special flair. The most important sacral buildings are the parish church "La Pieve", also referred to as a basilica, from the 9th century and San Leone cathedral from the 12th century. A sanctuary donated by St Leo is located at the high altar in the Roman basilica. The high-Romanesque cathedral was built from yellow sandstone. A crypt with three apses, as in the basilica, can be found inside. The main square in front of the two churches is surrounded by numerous Italian palazzi worth seeing.
San Leo fortress
The mighty San Leo fortress lies high above the beautiful historic centre. It has a triangular outline and is visible from afar due to its exposed position on a rock. Two mighty round towers protect the complex that Francesco di Giorgio Martini extended into a quadrangular bastion in the 15th century. Part of the fortification, however, fell into the abyss, which is why it's again resting on a triangular outline today. The fortress was used as a dungeon by Roman popes in the 18th century, where disagreeable foes or victims of the holy inquisition were kept. One of the most famous prisoners was the alchemist Giuseppe Balsamo, better known as Count Cagliostro, who died here after four years of agonising imprisonment.