Mesola
Place of Interest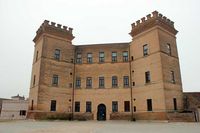 Castello Estense della Mesola
Mesola
Drained hunting ground of the Este
There are many theories as to where the name of Mesola at the Po di Goro, the border river to Veneto, comes from. It is most likely derived from "media insula", which is Latin for "centre island". Mesola used to be an approx. 4 km long island between two estuary creeks of the Po River. The area was only drained over the course of the following centuries – initially per decree of the Grand Drainage Campaign of the Este (Grande Bonifica Estensi) in the 16th century, then in early 19th century after the area was bought by the Società per la Bonifica dei terreni ferraresi ("Society for the Drainage of the Territory of Ferrara") in 1911. Today the drained grounds are used agriculturally by different farms.
Hunting seat and large forests
Alfonso II d'Este had a pleasure palace built for his wife in 1583, which the regents also used as a hunting seat. Since then the Castello Estense della Mesola has been renovated and houses the town library, the historical archives, the town's art gallery, and the environmental centre of the Po River delta. The more than 1,000 hectares large Gran Bosco della Mesola is the only piece left of the gigantic forest that used to cover most of the region. It is part of the preserve area Parco del Delta del Po, and is home to rare waterfowl and the dune deer.