History of Ferrara
Renaissance gem in Po Valley
Ferrara saw its heyday in the Renaissance. The noble Este dynasty turned the fair town in Po Valley into the flourishing centre for arts and culture of its day only beginning to fade away around the end of the 16th century when it fell into the hands of the Papal States. The bicycle town with a still rather prominent Jewish community only managed to achieve its erstwhile population of approx. 130,000 again in recent times. The historic city centre has since been declared World Heritage Site by the UNESCO.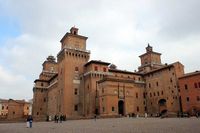 Castello Estense
City without Roman roots
Ferrara is one of few larger Italian cities without any Roman roots whatsoever. It is presumed that it originates from the heart of the Po delta at a river bend when inhabitants of the lagoons began settling there in the 7th century. The bursting of the Ficarolo Dam in 1152 caused the main branch of the Po River to relocate towards the north, which, in turn, caused the drainage of the lagoons around Ferrara. First documentary evidence of the settlement dates back to a document by the Langobardic king Aistulf from 753 or 754.
Heyday under Este regency
Over the course of the next centuries Ferrara changed its liege several times before falling into the hands of the Este – one of the oldest Italian noble dynasties that also ruled Modena and Reggio – in 1264. Ferrara flourished under Este regency and rose to city of residence. Alberto V d'Este founded the University of Ferrara in 1391 attracting several poets and scholars. Among its students were Paracelsus, Copernicus and the penitential sermoniser Savonarola. Notable artists, such as Andrea Mantegna, Giovanni Bellini, Piero della Francesca and Ludovico Ariosto, took up residence at the court of Ferrara even resulting in the founding of an expressive school of painting spearheaded by Cosmè Tura. Ercole I expanded Ferrara in a tessellated manner to 130,000 inhabitants – a number that would only be reached again in 1988.
Stagnation and World Heritage Site
Upon his death in 1597, Alfonso II did not leave any male offspring. Ferrara was incorporated into the Papal States and fell back to the Apostolic See. Renaissance brilliance disappeared; Goethe once described the city as "dull and deserted". Ferrara only began to grow again after its incorporation into the Italian Republic becoming an important agricultural centre. Cars are barred from the city centre, which is why there are a lot of bikes in the Po Valley, most of which are moving towards the university area. To this day Ferrara is home to a small Jewish community that had already settled here in the 12th century and flourished under the religiously tolerant Este – it is, inter alia, site of the Museo Ebraico. The historic, walled city centre was declared World Heritage Site by the UNESCO in 1995.