Comacchio
Place of Interest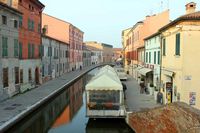 City channels
Comacchio
Lagoon town with Venetian flair
Quaint canals run through the centre of the lagoon town of Comacchio exuding Venetian flair. The inhabitants see themselves as descendants of the Etruscan city of Spina. Comacchio was founded on 13 lagoons. Draining only began gradually in the 19th and 20th century; a process that lasted until the 1960s. To this day it is possible to take a trip across the channels in the historic town centre on the so-called "Comacine" – the same boats that were once used in the erstwhile flourishing trading town to transport salt. The bridge Trepponti stretches across five of the islands divided by said channels. Comacchio's landmark was created by the architect Luca Danesi in 1634 and consists of five wide staircases with majestic towers.
Sights in Comacchio
The Trepponti aside, friendly Comacchio shines with pastel-coloured houses and likeable sights. The nobility palace Palazzo Bellini allows insights into the life of sailors in ancient times. Today, the former prison houses the Museo della Nave Romana, home of a Roman trade vessel from Roman Iron Age that stranded at the mouth of the Po River and was only discovered in 1981. It is currently being restored with the restoration process transmitted by live video to visitors of the museum. The ship's interior with the cargo and personal belongings of the crew is already open to the public. Comacchio is particularly noted for eel fishing. The old eel factory Manifattura dei Marinati is still in an operating state and can be viewed upon advance reservation.
Surroundings and beaches
The surroundings of Comacchio are ideal for all sorts of trip. With an area of 15,000 hectares, Valli di Comacchio is Italy's largest lagoon lake. It's a habitat for many different fish and waterfowl. The area can be easily discovered by boat, car and bike. The adjacent museum allows visitors to see the traditional fishermen's houses, the so-called "casoni". A total of seven lidi or public bathing beaches are located on Comacchio's 25 km long sandy coast. Contrary to Rimini, these are only partly open for tourists more prevalently featuring holiday houses and several forested areas.