Abbazia di Pomposa
Monastery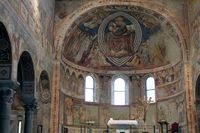 Basilica Santa Maria
Abbazia di Pomposa
From swamp to cultivated land
Enclosed by Goro and Volano, the two arms of the Po River, Benedictine monks already settled on the island of Pomposa in the 7th century and began converting the swamps into cultivated land. It is the site of the basilica Santa Maria built in the 8th / 9th century; a three-aisled church without transept that was expanded in the 11th century by erecting the artistically decorated porch and the approx. 50 metres high Campanile. The fascinating interior features the elaborately tiled floor and the slightly faded illustrated bible erected on the crossing walls in the mid-14th century by painters of the school of Bologna.
Centre of medieval cultural and theological life
Owing to its location at the pilgrims' road to Rome, the Via Romea, the abbey became a popular rest stop and developed into a centre of medieval cultural and theological life. The Benedictine monk Guido d'Arezzo developed notation at the abbey, Dante rested here on his last journey to Ravenna and even Emperor Frederick Barbarossa stayed in Pomposa in 1171. When the Po River started to change its course in the 13th century, the swamp area grew leading to an outbreak of malaria. The monastery was eventually abandoned in mid-17th century.
Opening hours
Monday | closed
Tuesday 08.30-19.00 |
Wednesday 08.30-19.00 |
Thursday 08.30-19.00 |
Friday 08.30-19.00 |
Saturday 08.30-19.00 |
Sunday 08.30-19.00 |
Discounts
Free admission for kids and teens under 18
Ages 18 - 25: € 2,50