San Martin de Tor
Palace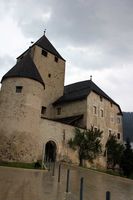 Castle Thurn
St. Martin in Thurn (San Martin de Tor)
Former administrative centre of the Val Badia
Approximately in the middle of the elongated Val Badia you will find San Martin de Tor (Italian: San Martino in Badia). From here the two side valleys Campilltal and Untermoi (Antermoia) lead into the Val Badia. San Martin de Tor is a relatively sleepy place that exudes a sense of tranquillity despite tourism. Previously, however, San Martin de Tor was the administrative seat of the prince-bishops of Brixen. The Tor castle still shows the former importance of the site. Today the castle houses the Ladin museum, which you should visit in any case. The beautiful Romanesque castle and the keep are open to visitors. On four floors you can learn all that is worth knowing about the culture and habitat of the Ladin people of the Dolomites. Of particular interest is the section on the Ladin language with its well-done multimedia presentation of Ladin.
Surroundings of San Martin in Tor
Just before San Martin in Tor the Campilltal and the valley of Untermoi lead into Val Badia. The latter is connected by a beautiful pass, with Bressanone, which is a highlight especially for mountain bikers and motorcyclists. The remote Campilltal is worth visiting because of its beautiful natural world and past. The intensive corn cultivation forced the former farmers to build water mills which can be seen today on a beautiful trail in the "Val di Molins" (Valley of the Mills).