Marebbe (Enneberg)
Mountain/ Valley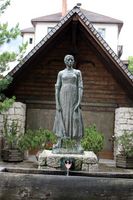 Tyrolean national hero
Marebbe - Enneberg
Idyllic side valley of the Val Badia
Enneberg (Italian: Marebbe) is an idyllic side valley of the Val Badia, which has in recent years turned into a popular holiday destination. With the Kronplatz ski area and a wide range of attractive walks, Enneberg has become an attractive holiday destination both in winter and in summer. In the valley's capital, San Vigilio, there are still many typical Ladin Viles (farm dwellings) – around them hotels and apartment houses mushroomed from the ground in recent years. A beautiful holiday spot which will most certainly grow in coming years.
Attractions in St. Vigil und in Marebbe/ Enneberg
A real art-history jewel is the splendid rococo church in St. Vigil. Matthäus Günther and Franz Singer decorated this beautiful building, which was not subject to further structural changes since its inception in 1728 – an absolute must-see! The statue outside the church commemorates the Tyrolean folk hero Caterina Lanz, who once defended her village with a pitchfork against the French. Also worth seeing is the beautiful Gothic pilgrimage church in Pieve Marebbe which has been the main parish church of the entire Val Badia since the 11th century. In 1449 Badia became its own church and Enneberg slowly lost its importance. Inside the church you will find a beautiful baroque high altar, a late baroque pulpit and four interesting votive pictures. Today, there is nothing to remind us of the former importance of the church.
The Fanes-Senes-Prague is worth a visit. Beautiful walks lead from St. Vigil through the magnificent park. At the end of the village of San Vigilio there is a nature park that includes a small museum of the park.