St. Ulrich (Urtijei)
Place of Interest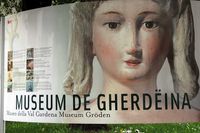 Ladin museum
Urtijei – St. Ulrich
Centre of Val Gardena
Urtijei (Italian: Ortisei, German: St. Ulrich) is both the first and the largest place in Val Gardena. While in winter countless skiers congregate here, in summer hikers and climbers dominate the touristic life in town. Consequently, the town is dominated by good and expensive hotels – there is nothing to see anymore of the former farming village. Only a few old houses bear witness to the existence of a place without hotels. As a result, the touristic infrastructure is much better. Boutiques, restaurants and sidewalk cafes decorate the entire city and offer sufficient attractions for tourists, not to mention the wide range of possibilities that are available outside the village. Hiking, climbing, skiing and many other sports will give you nearly unlimited resources. A paradise for nature and sports enthusiasts.
Gardena heritage museum and surroundings of Urtijei
The Heritage museum (Museum de Gherdeina) in the Ladin Cultural Centre (Cesa di Laden) explains the history and culture of the region in the Val Gardena. Particularly interesting are the famous Val Gardena carvings, which are on display in the museum – including some important pieces of the Vinazer family. A special exhibition is also dedicated to the mountaineer, writer and filmmaker Luis Trenker, who was born in Urtijei. The Luis Trenker's promenade, which connects the three towns of Val Gardena, Urtijei, St. Christina and Selva on the foundations of an old narrow-gauge railway, is also dedicated to him.
The surrounding mountain, skiing and hiking areas of Urtijei can be reached by cable cars and gondolas. Directly from, or around, you can reach the mountains Außerraschötz, the Seceda and the Seiser Alm. The Sassolungo is visible from everywhere in the village and can almost be called a landmark of Urtijei.