St. Christina
Winter sports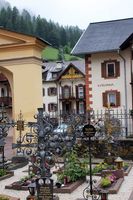 Cemetery
St. Christina – Santa Cristina Gherdina
The most original place in Val Gardena
St. Christina is probably the oldest of the three main villages in Val Gardena. Nevertheless, it is also very popular for tourists as St. Christina consists predominantly of hotels, restaurants, cafes and other tourist facilities. Because of its location, the resort offers ideal conditions for hiking, mountaineering and ski touring in the Sassolungo mountain range, the Puez group or on the Seiser Alm. The beautiful Romanesque church with its Baroque main altar and a traditional cemetery are worth seeing. The old stone houses below the church are reminders of the original village and clearly enhance the centre.
Surroundings of St. Christina
On the opposite side you will find the well-preserved Fischburg castle situated above the valley. The summer residence and hunting lodge of the 17th century was built in the style of the Middle Ages and has two beautiful courtyards, residential tracts, a chapel and five main and side towers. Unfortunately, this gem can not be visited because it is privately owned, but it is definitely worth a look. In summer as in winter the surrounding peaks Monte Pana, Mont de Seura and Col Raiser offer excellent sports facilities.