Toblach
Place of Interest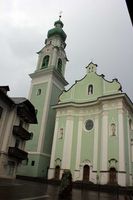 Baroque parish church
Toblach - Dobbiaco
Historic resort in the Puster Valley
Toblach (Italian: Dobbiaco) has been one of the most important tourist resorts in South Tyrol since the 19th century. Around the historic town centre hotels were built which served as lodgings for Austrians who wanted to spend their holidays in South Tyrol. In the nearby Höhlensteintal Valley, which connects Toblach with Cortina d'Ampezzo, yet another village of hotels was founded – New Toblach – to deal with the influx of holidaymakers. Even today, Toblach with the Three Peaks, the Höhlenstein Valley, the lake Dürrensee and lake Toblach as surrounding daytrip destinations, is one of the most beautiful and major holiday destinations in the Dolomites. The perfect location between Brixen, Cortina and the Austrian town of Lienz makes Toblach an ideal starting point for excursions and activities in the mountains.
Attractions in Toblach
Unlike many other villages in the Dolomites, Toblach has a beautiful historic centre. Its strategic location made the place early on an important hub along the "Alemagna", the important trade route between Venice and southern Germany. The late baroque church of Toblach is especially worth seeing. Damaged in the First World War, the sacred building from the 18th century was again fully restored and stands today in its full late-Baroque splendour. A walk along the Calvary is also very nice. In New Toblach, the former Grand Hotel houses the nature reserve house, the cultural centre and a youth hostel all in one. There you will find an interesting presentation of the two natural reserves, the Sexten Dolomites and Fanes-Sennes-Prags, which are situated in the vicinity of Toblach.
Surroundings of Toblach
Just north of Toblach, the Silvestertal Valley leads into the Puster Valley. Here the village Wahlen lies on a sunny hillside. However, in addition to the parish church with its beautiful frescoes, the view in particular makes this place worth a visit. From a small chapel above the village, you have a wonderful view of the Sexten Dolomites and the Three Peaks. Between the villages Toblach and Niederndorf there are the village of Aufkirchen, with its late Gothic pilgrimage church, and the village of Altschluderbach. The latter was the holiday destination of the famous Viennese composer Gustav Mahler. His homes and work places in the Trenkerhof and in the connected wildlife park are open to the public once a week.
The village of Niederndorf at the entrance of Puster Valley houses a tourism museum, which outlines the history of tourism in the Puster Valley quite well. Also worth seeing is the town hall square and the parish church with its connected Anna Chapel.