Pragser Valley
Mountain/ Valley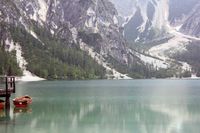 Prags lake
Pragser Valley (Valle di Braies)
Idyllic valley with a beautiful mountain lake
The Pragser Valley branches off to the south just before the village of Niederdorf, at the entrance to the Hochpustertal. At the village of Schmieden, the valley divides into two branches: Into the Inner Pragser valley to the Prags Lake and to the Plätzwiese (Prato Piazza). The Prags Lake – a 36-metre-deep mountain lake at 1489 meters above sea level – is one of the most beautiful lakes in the Dolomites. The idyllic mountain lake is situated directly under the imposing cliffs of the Seekofel mountain (2810 m), shimmering in all colours. The wild beauty of the Prags Lake brought tourists into the valley very early and it is therefore hardly surprising that, even in the remote Pragser Valley, you can find numerous hotels, restaurants and tourist infrastructure. You can take a beautiful walk around the lake in about an hour. Alternatively, you can also paddle across the lake with rowing boats. Occasionally, you can also see some particularly brave souls bathing in the cool water.
Plätzwiese and surrounding mountains
If you turn in Schmieden in the direction of Bruckele, you will reach the Plätzwiese, a huge meadow between the Pragser Valley and the Höhlensteintal Valley. Here, the cattle of the surrounding farmers graze under the supervision of paid pastors. The pasture plateau itself is a gigantic balcony with fantastic views of the surrounding mountains: the mountain ranges of Cristallo, High Geisl, Fanes, Sennes, Seekofel and the Three Peaks – a wonderful panorama. You can also reach the Höhlensteintal Valley from the Plätzwiese by way of an old military road.