St. Lorenzen
Place of Interest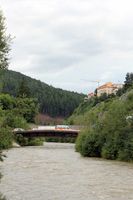 Monastery of Sonneburg
St. Lorenzen
Earliest settlement of the valley
San Lorenzen (Italian: San Lorenzo) is the oldest known settlement in this entire area of the valley. Even though the present town looks pretty unimpressive, it is much older than the nearby Bruneck. The Romans settled here and in the Middle Ages the small town was an outpost of the Tyrolean sovereigns. The former Sonnenburg convent – today the Schlosshotel – held the fortunes of San Lorenzo and, due to its autonomous rules, was the cause of many disputes between the prince-bishops of Brixen and the abbess. After the demise of the Order, the monastery degenerated into ruin and was partially restored in 1975 and converted into a hotel. The juxtaposition of a modern hotel and the ancient ruins – including the crypt of the old abbey church – is particularly appealing.
Surroundings of St. Lorenzen
The road in St. Lorenzen forks off into two valleys: the lower Puster Valley which heads towards Brixen and the Val Badia. If you drive through the lower Puster Valley, you will reach the village Kiens after a few kilometres and opposite that there is the Ehrenburg castle. The originally medieval castle was reconstructed in 1500 in Renaissance style. The prince-bishops of Brixen rebuilt it again in Baroque style and finally transformed it into a magnificent castle. The castle is still inhabited, but can be visited. Also worth visiting is the altarpiece of the church in nearby St. Sigmund – it is one of the oldest in the Tyrol.
The Kronplatz on the Plose mountain above Bruneck is one of the most developed ski resorts in the Dolomites and offers perfect snow conditions and incomparable slopes. The easy accessibility of the lifts make the surrounding villages good starting points for winter skiing.