Predazzo
Place of Interest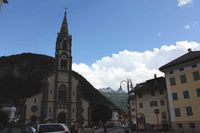 Main square
Predazzo
Cross-country and ski jumping centre
Unlike the other two major towns in the Fiemme Valley, Predazzo is located on the valley floor. Apart from a fresco-decorated church and an interesting little geological museum, the town has no major sights but is nonetheless an important cross-country and ski jumping centre. Numerous cross-country skiing slopes, ski jumps and beautiful ski slopes in the ski centre Latemar surround the town. In summer, Latemar is also a beautiful hiking spot.
From Predazzo to San Martino di Castrozza
East of Predazzo, the route runs up to the Rolle pass and further to San Martino di Castrozza through the Val Travignolo. Through a beautiful meadow and woodland landscape you will reach the Paneveggio natural reserve and the Pale di San Martino. Both parks protect the surrounding forest, which is the largest in Trentino. Some information desks will be able to inform you about the National Park Reserve. The massif of the Pale di San Martino looks really impressive once you get out of the dense forest and make your way up to the Passo Rolle and see the bizarre rock formations around San Martino. The magnificent view over the surrounding peaks of the Dolomites is a very special experience.