Cavalese
Place of Interest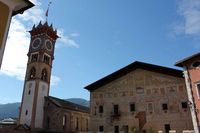 Palazzo della Magnifica Comunità
Cavalese
Centre of the Fiemme Valley
Cavalese is the capital and at the same time the ski resort of the Fiemme Valley. Its exposed location, in front of the Lagorai mountain range, makes the place particularly attractive. A cable car leads directly from the capital to the ski area Val di Fiemme-Obereggen, which makes the place very appealing for winter sports enthusiasts. In the town itself the main sight is the Palazzo della Magnifica Comunità di Fiemme. The magnificent building, decorated with coat of arms frescoes, was formerly the summer residence of the prince-bishops. The interior can be visited only during a guided tour; nevertheless, the rooms decorated with precious woods and frescoes make it worth your while. The late-Gothic parish church of Cavalese is interesting mainly due to its high bell tower, whose top is already visible from afar in the valley.
Surroundings of Cavalese
Just east of Cavalese lies the small town of Tesoro. As in the neighbouring town of Cavalese, the high the bell tower is visible from a distance and a real eye-catcher. Inside the church of San Leonardo you can see some frescoes and an altarpiece by Francesco Unterberger. In addition, the Baroque town hall and the fresco-decorated façades of the Renaissance chapel of San Rocco are worth a visit. The many wood carving workshops in Tesoro explain the town's popularity - especially in Advent. Under the slogan "Tesoro and its cribs" you will see many small but also life-size Christmas cribs situated throughout the city which can make for a very special time.
South of Cavalese, the mountain range of Lagorai extends through the whole valley. With a few exceptions, around the Alpe Cermis and the three Lakes of Bombasel, they are among the most isolated mountain ranges of the Dolomites and in many places are still virtually untouched. Only a few hikers and mountain climbers traverse this beautiful landscape. This is not the call on the Alpe Ceremis where some hiking trails lead to the fish-rich Laghi di Bombasel and ski slopes run down into the valley.