Badia
Place of Interest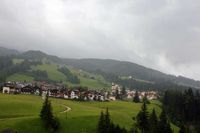 View to St. Leonhard
Abtei – Badia
St. Leonhard and Pedraces
Badia (in German: Abtei) consists of the two villages of St. Leonard and Pedraces. The latter is just along the road, while St. Leonhard stretches along the eastern slope. Characteristic of the village just below the Santa Croce mountain are the traditional Viles – Tyrolean couple farms which exist only here and lend the magnificent landscape of the Dolomites a feeling of the past. Although more and more tourists are frequenting the site, with its nearly untouched nature it remains an apt spot to take long and idyllic walks.
Attractions in Badia
The parish church of St. Leonhard in the homonymous district is well worth seeing. It is dedicated to the patron saint Leonhard, who played an important role for the farmers in the entire Austrian territory. The extremely rich rococo style of Franz Singer and Matthew Guenther make the church a real gem. Also very beautiful is the panorama outside the church with the Puez mountain range in the background. At the foot of the Santa Croce mountain you will find the pilgrimage church and the Hospice Heiligenkreuz – today a shelter, where you can eat traditional cuisine.
The hamlet Oies is the birthplace of St. Joseph Freinademetz. The priest, who became a saint in 2003, was a missionary in China from 1881 on. His birthplace is a shrine for pilgrims from the region since his canonisation.
Travelling in the central Val Badia
The central Val Badia is probably the most original of all Ladin valleys. The smaller villages in particular are still fully committed to Ladin traditions and culture. Pedraces and St. Leonard are centres of the Val Badia, which are often named together as Abtei (Badia), Wengen and St. Martin in Thurn. Typical Ladin traditions and skills have endured here much longer than in any other Ladin valley. The Ladin traditions are still practised in the valley, with respect to cuisine, customs and festivals – a mecca for lovers of nostalgia and lovers of the Ladin culture.
Horse breeding is still the mainstay of agriculture in the valley. However, tourism has developed steadily in recent decades to become the main source of income in the area. Nevertheless, traditional food is still on the menu, bacon is smoked in the proprietors' own smoke houses and in many places you can see old, traditional production techniques.