Bassano del Grappa
Place of Interest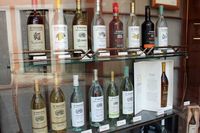 Grappa brandy
Bassano del Grappa
Picturesque town at the foot of the Alps
Bassano del Grappa is definitely worth a visit. The small picturesque town at the foot of the Monte Grappa is famous for its unique wooden bridge and as the capital for the production of the famous grappa brandy. But the place has much more to offer: beautiful ceramics, dishes of honey, asparagus, mushrooms and more. No wonder the small town is visited by many tourists who appreciate the ambiance and the variety of Bassano del Grappa.
Attractions in Bassano del Grappa
The little idyllic town of Bassano del Grappa will inspire you with a variety of unique attractions comparable to those of many other larger cities. Beautiful old squares, narrow streets and walkways and beautiful palaces adorn the cityscape. Most of the city's life is situated around the two squares Piazzale della Libertà and Piazza Garibaldi. Here you will find the imposing Ezzelino tower, also called Torre Civica, from the 13th century and the beautiful brick church of San Francesco with beautiful frescoes inside – including the "Madonna and Child" by Martinelli. The cloister of the Franciscan convent houses the Museo Civico, which contains numerous exhibits of archaeological finds of Roman, Greek and Apulian pottery and writings as well as valuable paintings by local and Venetian artists.
High above the town of Bassano del Grappa you'll find the Castello degli Ezzelini from the 12th century with the remains of the city walls still intact. Within the walls of the fortress there is the Cathedral of Santa Maria whose interior is decorated with beautiful paintings by local artists – among them Leandro Bassano.
Landmark of Bassano del Grappas: the Ponte degli Alpini
A landmark and an absolute highlight of any visit to the city of Bassano del Grappa is the covered wooden bridge Ponte degli Alpini, also known as Ponte Vecchio, connecting the two banks of the Brenta river. The magnificent wooden structure, whose foundations imitate four bows of a ship, had to be restored and rebuilt several times and dates back in its appearance to none other than Andrea Palladio himself. The last time the bridge was destroyed was in the Second World War – it was rebuilt by Italian mountain troops (Italian: Alpini), who gave it its present name.
Centre for grappa distilleries and ceramics
On the eastern access to the Ponte degli Alpini you'll see the grappa distillery Bortolo Nardini from the year 1779. It was the first of its kind and was the start of a long grappa tradition in the city – today you can taste some grappa here and of course buy it. The city was not named after the grappa brandy, but from the nearby Monte Grappa. Today Bassano del Grappa is a centre for ceramic products and grappa brandy. Besides Nardini, Poli and Baggio also produce the coveted brandy. The Grappa Museum in the Polli distillery can inform you about the history and production of the famous grappa.