City walk through Padua
With ZAINOO to the most beautiful sights in Padua
Padua – an ancient university city and pilgrimage destination for countless pilgrims. Whether you are just passing through, on a pilgrimage or plan a longer stay in the Padua area, you should certainly take some time for a little walking tour through Padua. From a simple stroll along the promenade of Padua and a visit to the Palazzo della Ragione or Palazzo Bò and a trip to the main monuments and precious relics in the Scrovegni Chapel, the Basilica di Sant'Antonio and the Basilica di Santa Giustina – Padua offers unforgettable moments for all of its visitors.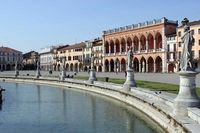 Prato della Valle
Experience the most beautiful places in Padua
Even if Padua is often unfairly overshadowed by its neighbouring cities Venice and Verona, the city has far more to offer its visitors than one might think at first glance. As one of the oldest cities in Italy, Padua is home to the third oldest university in Italy, where even Galileo once taught and which enjoys a worldwide reputation today. But the historic old town has much to offer for visitors too. From the hustle and bustle of the markets around the Palazzo della Ragione, a cosy coffee in the historic ambience of the Caffè Pedrocchi to a visit to the Scrovegni Chapel with its world-famous frescoes by Giotto – everyone will find a suitable sightseeing programme.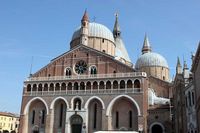 Basilica di Sant'Antonio
On pilgrimage in Padua
For centuries, Padua has been a popular pilgrimage destination for believers and pilgrims from all over the world. Martyrs, saints and even the evangelist Luke found their final resting place in Padua. While you can admire the tomb and the relics of St. Anthony in the Basilica di Sant'Antonio, you will find the remains of many martyrs and the tombs of the saints Giustina and Prosdomicu and St. Luke the Evangelist in the Basilica di Santa Giustina, which is an awesome experience for non-religious visitors too.
ZAINOO city walk through Padua
No matter how long and for what purpose you are staying in Padua – you should not miss the most important and beautiful sights. Whether a short trip and walking tour through Padua or a multi-day pilgrimage – the ZAINOO tour proposals lead to the major attractions and the most beautiful places in Padua.