Journey to Padua
Visit to the university city and pilgrimage to Padua
Padua is one of the oldest cities in Italy. Its great history is still reflected today in the city, which attracts many tourists, pilgrims and enthusiasts. But Padua's atmosphere is not just attributable to its historic cityscape. Magnificent and richly decorated churches, art treasures and one of the oldest universities in Europe bear witness to the importance of the city and inspire visitors. With the Padova Card, all of these treasures can be visited inexpensively and those looking to relax as well as sports enthusiasts will enjoy the spas around Padua and in the hiking areas of the Euganean Hills.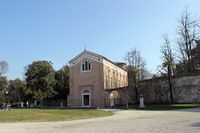 Scrovegni Chapel
Journey to Padua: Stay in an historic town
A trip to Padua is definitely worth considering. Padua is not only one of the oldest cities in Italy, but also houses an abundance of attractions and artistic treasures. The frescoes by Giotto in the Scrovegni Chapel and the Basilica of St. Anthony, which are very important in art history, are just two of the highlights Padua has to offer – many of the sights can be visited quite cheaply with the Padova Card. Padua is also home to one of the oldest universities in Europe, which also shaped the history of the town. Thanks to the many students you can find numerous cafes, bars, restaurants and places to stay in Padua. So there's more than one reason to visit this great city and its monuments.
Journey to Padua: Spa area and hiking paradise
Padua is the capital of the province of Padua and the economic centre of Veneto. In addition to the great city of Padua, its surrounds have much to offer visitors. Whether you want to relax in the spas around Padua or you are in the mood for a hike through the Euganean Hills – there is a varied programme for young and old in contrast to pure sightseeing. Venice, which is a 45-minute drive away, is a good alternative during your stay. Whatever your motive for your planned trip to Padua is, on ZAINOO you will find all relevant information and numerous tips for your holiday.