Basilica di Santa Giustina
Church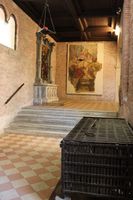 Tomb of St. Luke
Basilica di Santa Giustina
Tomb of the evangelist Luke
The huge Basilica of Santa Giustina dominates to the south of the Prato della Valle. The imposing brick church was built in its present form in the 17th century and is dedicated to Saint Giustina, the patron saint of Padua. Giustina was executed in the 4th century in Padua at the age of 16 and has her grave in the Basilica di Santa Giustina along with several other martyrs and Luke the Evangelist. As with most of the other major churches in Padua, the exterior façade is unfortunately not finished, but that only slightly diminishes the visual effect of the gigantic building with its eight domes.
Inside the Basilica di Santa Giustina
The vault of the nave church building is supported by 26 massive columns and in the aisles and the transept are a total of 20 richly decorated chapels. The altarpiece of the grand high main altar was painted by Paolo Veronese and represents the "Martyrdom of St. Giustina". At the end of the left transept is the tomb of St. Luke who, according to church tradition, was the author of the Acts of the Apostles and the Gospel of Luke.
Right of the main altar you can reach the Chapel of St. Massimo, from where you can enter corridor of the masses. From there, a small door branches off to the right into the chapel of St. Luke. Here lies Elena Lucrezia Cornaro Piscopia, the world's first woman with a PhD. The old choir, which is adjacent to the major corridor, can be visited only with special permission.
Corridor of the Martyrs
Through the Chapel of St. Mathew in the right aisle, you reach the Corridor of the Martyrs (Corridoio dei Martiri), which leads to the grave chapel of St. Prosdocimus. The first room you reach is a small frescoed chamber, which houses the bones of the early Christian martyrs in the trachyte fountain. A few metres further down the corridor you can see the iron cage with the remains of the wooden coffin of St. Luke – La Vecchia Cassa. If you continue down the corridor you will finally reach the grave chapel of St. Prosdocimus, which is also the oldest church in Padua. The screen in the chapel dates from the 6th century and the portrait of the sarcophagus depicts Saint Prosdocimus. In the small vestibule to the chapel you will find the tomb of St. Giustina on the left-hand side.