Piazza Duomo
Square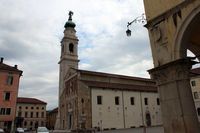 Cathedral Santa Maria Assunta
Piazza Duomo
Around the cathedral square
The cathedral square in Belluno and its immediate surroundings offer visitors the most attractions in the city. Directly in the square is the beautiful Cathedral of Santa Maria Assunta from the 16th century. The exterior brick façade is relatively simple; the Campanile on the other hand is in the typical Venetian style. Opposite the cathedral is the baptistery. Pope John Paul I was general vicar here for 20 years before he began his short tenure as pope.
Palazzo dei Rettori and Torre Civica
On the north side of the Piazza Duomo is the impressive Palazzo dei Rettori from the 15th century. It has a great arcade with filigree decoration, Gothic arched windows and two balconies. The clock tower dates back to the 16th century. If you leave the cathedral square to the west you can see the Palazzo dei Vescovis with the striking Torre Civica – the remains of a castle from the 12th century.
In the southern parallel street, the Via Duomo, you will find the Museo Civico, which presents findings from the early history of Belluno and the Roman period. The museum's art gallery houses, in addition to works by local artists, the almost four-metre-long painting "Christ before Pilate" by Tintoretto and wood sculptures by the Belluno sculptor Andrea Brustolon. If you continue along the road you will finally reach the beautiful Piazza dell'Erbe where you can admire a fountain from the 15th century and the Loggia dei Ghibellines.
Entrance
Museo Civico: € 5,-