History of the province of Belluno
Provincial capital in the Belluno Dolomites
The Belluno we know today was already inhabited in the 5th century BC by the Celts and Veneti before it received the town charter from the Romans in the 2nd century and was named "Bellunum". The city achieved its largest expansion in the 10th century when the province was able to extend to Bassano and Jesolo. In 1404 Belluno also became part of the Doge's republic of Venice, where it remained until the occupation by France. After a vehement struggle for independence, in 1848 Belluno joined the Italian Kingdom together with Veneto in 1866. The province's current size was reached after the First World War with the annexation of Trentino-South Tyrol by Italy.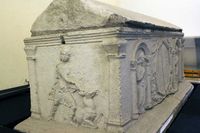 Roman sarcophagus
Belluno from antiquity to the Middle Ages
The region around Belluno was already inhabited in the 5th century BC by Veneti and Celts. They gave the city its present name: belo-donum, which means "Shining Hill". The Romans gave the city the town charter in the 2nd century BC and made Bellunum a city of the Roman Empire. With the end of the Roman Empire, Teutons, Lombards and finally Carolingians invaded Belluno. The city achieved its greatest expansion in the 10th century when Bassano and Jesolo were incorporated into the province. The expansion, however, was short-lived – Belluno fell victim to its expanding Venetian neighbours. In 1249 Ezzelino da Romano from Padia conquered the city and it later fell into the hands of the Scaliger family of Verona. In 1404 Belluno was annexed by Venice.
Belluno from modern times until today
Like the neighbouring cities of Veneto, Belluno benefited from the protectorate of Venice until 1797, when French troops invaded the city. In the first Kingdom of Italy Belluno became the capital of the Dipartimento del Piave in 1806. With the defeat of Napoleon, Belluno became part of Lombardy-Venetia and was now ruled by the Austrians. Despite strong independence movements, Belluno, together with Veneto, decided to join the Kingdom of Italy in 1866. The province's present boundaries were set out after the First World War. After the annexation of South Tyrol and Trentino by the Italians, the southeastern parts of the two regions, including Cortina d'Ampezzo Belluno, were given to Belluno.
A great stir was caused in the province by a disaster in 1963 when the reservoir of the Vajont burst its banks and completely destroyed several villages in the valley.