Villa Romana del Casale
Archaeological site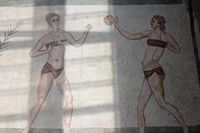 The famous bikini girls
Villa Romana del Casale
Roman villa with unique mosaics
The Roman Villa del Casale, a UNESCO World Heritage site, attracts many visitors to the heart of Sicily. Decorated with fantastic mosaics, the Roman villa was probably destroyed in the 12th Century by a landslide and rediscovered by archaeologists in 1929. Up to now, approximately 50 rooms of the former luxury property have been excavated and are open to visitors. All rooms are in the old manor house, while the farm buildings and living quarters are still waiting to be discovered. The magnificent villa was probably built on the walls of an earlier building in the 3rd and 4th Century. However, is still not clear who built the magnificent seat of power with over 3,500 m2 of mosaic floors.
The mosaics of the Villa Romana del Casale
Visitors can admire the villa's beautiful mosaics on an extensive network of high footbridges. They show a wealth of different topics from everyday life and mythology, as well as hunting and animal baiting in the Roman arenas. The entire complex covers a total of 5 sub-areas: the entrance around the atrium, the baths, the peristyle with its many rooms, the great basilica and the elliptical Xystos.
The most beautiful mosaics include the floor mosaic of the Circus Maximus in Rome in the spa area, the corridor depicting the big hunt with numerous hunting and animal representations in the peristyle, the singer Arion riding a dolphin in the staterooms of the basilica and the 12 canonical deeds of Hercules in the triclinium in the Xystos. However, prior to all these splendid mosaics, a number of gymnastic girls, so-called bikini wearers, achieved world fame. The half-naked girls wear late Roman gymnastics underwear that resemble today's bikinis and helped the girls make it onto numerous title covers of Latin books and newspapers.
Opening hours
Monday 8.00 - 18.00 |
Tuesday 8.00 - 18.00 |
Wednesday 8.00 - 18.00 |
Thursday 8.00 - 18.00 |
Friday 8.00 - 18.00 |
Saturday 8.00 - 18.00 |
Sunday 8.00 - 18.00 |