Morgantina
Archaeological site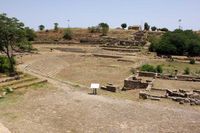 The Agora - the main square
Morgantina
Old Siculi town in the heart of Sicily
The ancient town of Morgantina is located on a ridge about 15 kilometres east of Piazza Armerina. The old Siculi town was surrounded by a 10-kilometre-long town wall and soon merged with the neighbouring Greek settlement. In the 5th Century it was destroyed by Siculi prince Ducetius and rebuilt at the initiative of Syracuse and developed into an important and well-fortified town in the Sicilian hinterland. The atmospheric excavations do not draw that many visitors but are worth seeing.
Attractions in Morgantina
The central square and main attraction is the Agora and its surrounding buildings. The rectangular square with a market in the centre was surrounded on 3 sides by halls which were adorned with columns and paintings and were probably used for different events. Over a peculiar staircase at the southern end, you can reach the bottom of the Agora, which was probably the centre of public life. In addition to places of worship and public buildings, a small theatre nestles on the slope on the west side, from whose seat rows you can see Mount Etna.
Opening hours
Monday 9:00-18:30 |
Tuesday 9:00-18:30 |
Wednesday 9:00-18:30 |
Thursday 9:00-18:30 |
Friday 9:00-18:30 |
Saturday 9:00-18:30 |
Sunday 9:00-18:30 |