Walking tour through Enna
With ZAINOO to the most beautiful places in Enna
Whether you are just passing through or spending several days in Enna and the surrounding region – the city is definitely worth a short trip. With ZAINOO you won't miss any of the major attractions. Although relatively small, there are a lot of places to see in Enna: beautiful panoramas, the cathedral, the Castello di Lombardia and some nice cafes and squares. Reason enough to plan a short walking tour through Enna.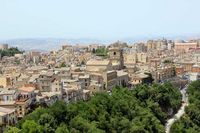 Townscape
The most beautiful places in Enna
Because of its exposed position on a ridge and the attractive daytrip destinations in the surroundings, Enna is a very attractive destination for a trip. Between the historic buildings of the old town, the small city offers its visitors magnificent countless views of the surrounding hilly landscape. The best way to explore the city is a short walk, strolling through the narrow streets and enjoying the surrounding panorama. In addition to the Piazza Vittorio Emanuele, you should make sure not to miss the Castello di Lombardia and the cathedral of Enna.
ZAINOO city walk through Enna
No matter how much time you have available in Enna – you should not miss the highlights of the city. Whether a short trip and walking tour through Enna or a holiday in the heart of Sicily – the ZAINOO route suggestions lead to the main attractions and the most beautiful places in the province of Enna.