Saltimbocca alla romana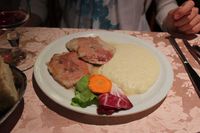 Typical Roman dish
Saltimbocca alla Romana
Typical Roman meat dish
Saltimbocca alla Romana is next to spaghetti alla carbonara and bruschetta one of the most famous Roman dishes. The tasty meat dish is quick to prepare and goes well with everything:
Ingredients (4 people):
50g butter
4-8 veal cutlets
pepper
4-8 sheets of Prosciutto
salt
4-8 leaves of sage
200ml white wine
Preparation time:
20 minutes
Preparation:
Separate the meat from the fat and bones. If necessary, the meat can be pounded or cut so the prosciutto fits inside. Now put a sheet of Prosciutto in each cutlet. Wash and dry the sage and put a sage leaf on each veal cutlet with a toothpick. Melt the butter in a pan and brown the veal cutlets on both sides. Pour with white wine and season with salt and pepper. Serve the Saltimbocca hot with the remaining pan juice and a side dish of your choice.