Penne all'Arrabiata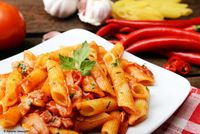 Penne all'Arrabiata
Penne all'Arrabiata
Simple Roman pasta dish
Penne all'Arrabiata is one of the traditional pasta dishes of Roman cuisine. Easy and quick to prepare, it is the perfect dish for many occasions.
Ingredients (4 people):
2 cloves of garlic
4 teaspoons of oil
400g penne pasta
100g grated cheese
2 chilies
400g peeled, diced tomatoes
3-4 teaspoons of parsley
Preparation:
Finely chop the garlic and the chilies. Slightly salt the water and bring it to a boil. Cook the penne pasta al dente. Put some oil in a pan along with the garlic and the chili. Stir in the tomato sauce. Add parsley and hot penne pasta and stir it. Prepare on plates, sprinkle with cheese and serve.