Toscolano-Maderno
Place of Interest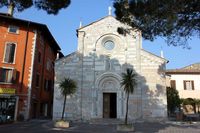 Church of Sant'Andrea
Toscolano-Maderno
Former paper stronghold of Europe
According to unconfirmed assumptions, Toscolano-Madernos was settled back in Roman times. The Roman settlement, called "Benacus", is assumed to have been the lake's original name "Lacus Benacus" before the city was destroyed by a landslide. Due to the lack of archaeological evidence, this theory has never been proved. What has been documented by numerous sources is that Toscolano was one of the paper strongholds of Europe. The raging torrent Torrento Toscolano fed many paper mills in the Middle Ages. The fine paper with the ox-head as an imprint soon became so famous that it was sought after in royal houses throughout Europe. Even Martin Luther's Bible template was printed on paper from Toscolano-Maderno.
Attractions in Toscolano-Maderno
The industrial city Toscolano-Maderno has developed more and more into a tourist mecca in recent decades. The largest beach on the west bank of Lake Garda and a mile-long beach promenade attract more and more tourists to the city. The parish church of Santi Pietro e Paolo built in the Renaissance style of the 16th century is an interesting sight. It has a total of 22 paintings by the famous Venetian painter Andrea Celesti. In the district of Maderno the church of Sant'Andrea from the 12th century is worth visiting. It is one of the most beautiful Romanesque churches in northern Italy.
Surroundings of Toscolano-Maderno
All who stay in such a famous place as Toscolano-Maderno simply have to make a trip to the Valle delle Cartiere (= the valley of the paper mills). You can reach it easily by following the river Toscolano upstream. On foot or by bicycle, you pass the ruins of the old paper mills – combined with the beauty of the surrounding nature it is a wonderful sight. The largest paper mill in the valley is the Paper Museum (Museo della Carta), which is located in the gatehouse. Entrance is free, which means that you should certainly visit the museum. Here you can find information concerning the paper production processes and admire numerous exhibits and literary excerpts from the area. The wild and romantic gorge a few metres further on offers numerous swimming opportunities and beautiful natural scenery.
The two villages of Gaino and Cecina are worth visiting. Both have been spared the waves of mass tourism and offer an idyllic village centre and sufficient opportunities to enjoy a little of the flair of an original Italian village.