Solferino
Memorial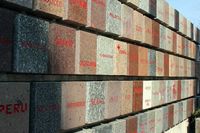 Members of the Red Cross
Solferino
Birthplace of the Red Cross
In June 1859 one of the worst and most important battles in the Italian struggle for independence took place here. 150,000 French and Italians defeated 130,000 Austrians on the battlefield of Solferino. The battle claimed 25,000 dead and 10,000 wounded. A young Swiss man named Henry Dunant was shocked and drawn by the experiences and the suffering and misery of the soldiers. As a result he wrote a book and sent it to all the important people and leaders of Europe. Five years later, 16 European countries signed the Geneva Convention to Dunant's proposal and jointly founded the International Red Cross. Henry Dunant himself soon retired from the leadership and was honoured with the Nobel Peace Prize in 1901. The organisation he founded in 1864 is, however, the most important international organisation in the world today.
Attractions in Solferino
The Museo Storico Risorgimentale is located in Solferino. It documents the military history of Italy from 1796 to 1870. The ossuary in the church of San Pietro reminds visitors of the terrible battle of Solferino. Here are stacked in the basement the bones of 7,000 dead and a total of 1413 human skulls – a very depressing sight which reflects the general mood during a visit to Solferino.