Limone sul Garda
Place of Interest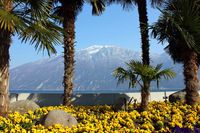 View on the Monte Baldo
Limone sul Garda
Tourist stronghold at Lake Garda
Limone is undoubtedly one of the strongholds of tourism at Lake Garda. Some 10,000 tourists stroll through the small town every day although there are not too many attractions. Limone makes a living out of its beautiful beach and its reputation as an outstanding tourist destination. The town also enjoys considerable renown on account its many world-famous lemon groves and its inhabitants once gave the famous citrus fruit its finishing touch. However, the village's name Limone has nothing to do with the fruit. It comes from the ancient Latin and Italian word "limes" (= border) and was given to the town because of its former function as a border town between Italy and Austria. Anyway, they earn a lot of money with the name among the many tourists in the form of souvenirs.
Attractions in Limone
Apart from the lemon greenhouses, some of which are now reactivated but not open to the public, tourism in Limone gained in importance only from the 1950s. The historic old town centre is relatively tiny and insignificant. The tourist life is focused on the many hotels, restaurants, bars, shopping streets and the beach. Nevertheless, some religious buildings are worth a visit, including the baroque parish church of San Benedeto above the old town with selected works of art by Andrea Celesti, the Church of San Rocco from the 14th century at the port and the stone chapel of San Pietro on the road to Tremòsine with old frescoes. The African missionary and bishop Monsignor Daniele Comboni (1831-1881) was also born in Limone. A small chapel with a memorial exhibition and his birthplace are a memorial to his life and work.
Olive lovers should visit the olive oil museum and the old oil mill in the Via Campaldot. Here you can learn all about the precious oil and stock up with new products in the adjoining showroom.