Lazise
Place of Interest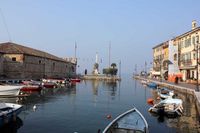 Port in the centre
Lazise
Old Venetian port
Lazise is one of those few cities whose fortifications, towers and gates are still well preserved. Even from afar you can see the heavily fortified city which once served as a naval port for the Venetians. Nevertheless, the quiet town is far away from mass tourism and is an idyllic location on the eastern shore of Lake Garda offering its visitors excellent restaurants and a unique historical ambience. The narrow streets in the historic heart open again and again into small squares and radiate a lot of flair while strolling through the town.
Port and bay of Lazise
Although Lazise was a former naval port of Venice you won't find an impressive port today. Only the long, narrow harbour basin extends between the fortifications. The constructions and the remains of the proud port city are still there – underwater. Divers can dive into a bygone age in the Bay of Lazise with numerous remains of galleys, frigates and other warships resting peacefully on the lake bottom. In order not to be left in enemy hands, the Venetians sunk their entire fleet in the bay in 1509, where it still holds the position.
Attractions in Lazise
Walls, towers, gates, a powerful Scaliger Castle, but still there is very little to visit in Lazise. The castle and fortifications are in fact privately owned and not open to the public. You must therefore make do with the historic old town and its medieval beauty which is anything but boring. A long walk through the narrow streets is it well worth it in any case.
Surroundings of Lazise
Lazise offers a lot of attractive daytrip destinations in the surrounding area. In the Parco Natura Viva you can start a safari with your own car. The 240,000 m2 area of land is home to lions, elephants, monkeys, giraffes, zebras, rhinos and many other species. Convertibles and dogs are generally banned, and apart from the aqua terrarium, the aviary and the dinosaur park you are only allowed to drive through the area in a closed car.
For those who prefer a little less exciting visit, the Garda Thermal Park may be the right choice. A veritable wellness oasis which blends perfectly with the surrounding landscape. The highlight is the 5,000 m2 large thermal lake, fed by an underground spring with 37 degree warm water. The mineral-rich water is particularly beneficial for the skin, which is the reason why many holidaymakers come and stay here for their spa holidays. Of course there is a modern spa pool with many attractions next to the lake, which can provide a few surprises for water lovers even at night.