Garda
Place of Interest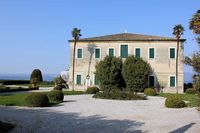 Villa on the Punta di San Vigilio
Garda
Tourist attraction and namesake of Lake Garda
Garda is one of the tourism centres of the region and gave the lake its present name in the 8th century. The village developed very quickly and became an important trading town at Lake Garda, which is why you can see many Venetian palaces, a lovely lakeside promenade and a lovely old town that indicate the prosperity of Garda in earlier times. But even today, Garda is not poor – quite the opposite. The good location and the unique sunset of Garda, when the lake shimmers golden, have made it well known all over Europe. Especially in the high season there are many thousands of tourists walking the streets in search of souvenirs and restaurants.
Attractions in Garda
Palazzo Carlotti, Palazzo dei Capitani, Villa Albertini, Porta Fregoso and many other palaces and historic buildings dominate the skyline of Garda. Unfortunately, almost all of them cannot be visited and you have to be satisfied with the spectacular outdoor scenery. In the parish church of Garda there is an altarpiece by Palma Giovanne of Verona and the attached cloister contains early Christian Bible stones in the staircase. In the immediate surroundings of Garda, the Punta di San Vigilio is worth a brief visit. The beautiful Renaissance villa from the 16th century in the middle of the wooded peninsula was built by Sanmicheli and once belonged to Count Agostino Guarienti. He described the peninsula as the most beautiful place in the world. In the former guest house there is now a hotel. In any case, you should take the time to take a little walk through the complex.
Surroundings of Garda
In the hinterland of Garda, the largest military cemetery in Italy is located at Costermano with the remains of 21,951 soldiers. If you don't want to deal with the oppressive atmosphere of the cemetery, you can watch carpenters at work in the ARPA workshop. From the delivery to the processing of the wood and the finished product you can see all the major production steps. The workshop is definitely worth a visit and is quite interesting for children and adults alike.
Similar to Crero, petroglyphs from ancient times can also be found on Mount Lupa. These are well signposted from Punta Vigilio and can be easily reached in about half an hour. Also worth a visit is the Sanctuary of Madonna della Corona. It is perched on a rock high above the Adige Valley and can be reached via a steep staircase – a really mystical place which you can reach via the village of Spiazzi in a 15-minute walk.