Montegrotto Terme
Spa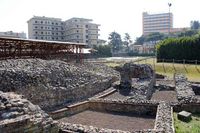 Roman thermal baths
Montegrotto Terme
Spa town south of Padua
Just south of Abano Terme is the second largest spa town in the Euganean Hills, Montegrotto Terme. This small town has practically grown together with Abano Terme and yet it is not any less idyllic. The historical significance of Montegrotto Terme can be seen particularly well in the Via degli Scavi, where you can take a look at the ruins of a Roman thermal bath (Terme Romane). Three interconnected pools and a small theatre system prove that the Romans already knew how to exploit this unique spa. The butterfly garden a few metres away is also worth visiting. You can find over 400 butterflies fluttering about here – the nice design of the garden with ancient Celtic and Venetian figures will make a visit an unforgettable experience.
You should also see the Oraorio della Madonna from the Middle Ages and the cathedral Santi Pietro e Paolo, which sits on a small hill overlooking the city. If you're interested in more physical activity, you can always climb up on the western outskirts to the ruins of the Villa Draghi, from where you have a magnificent view over Montegrotto Terme.
Excursions around Montegrotto Terme
The medieval Castello di San Pelagio, located southeast of Montegrotto Terme, is worth visiting. The main house with a watchtower, farm buildings and a beautiful garden are worth a visit not only for its historical significance and location – it also houses the Museo dell'Aria e dello Spazio, the Aviation Museum. Legend has it that the Italian national hero Gabriele D'Annunzio started with a biplane from the Castello di San Pelagio and went to Vienna in order to drop propaganda leaflets there. The museum documents the history of aviation from its origins to modern space travel. You can also see some airplanes and flying machines on display in the castle grounds.