Battaglia Terme
Spa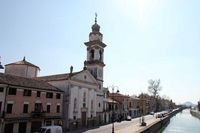 Beautiful city centre
Battaglia Terme
Spa resort at the foot of the Euganean hills
Battaglia Terme is close to Padua at the eastern end of the Euganean hills. The thermal springs of the village were used early on by the Romans. The centre of Battaglia Terme is small, manageable and nicely laid out. It is worth visiting the Maritime Museum in the Via Ortazzo on the peninsula in the west of the village, with its numerous exhibits from the era of commercial shipping.
The town's highlight is the Villa Selvatico from the 16th century. It is perched in the middle of several parks with thermal water ponds above Battaglia Terme. The interiors are well furnished and have numerous paintings. The villa is open for visitors outside of events on only a select few days about which you can inquire onsite.
Excursions around Battaglia Terme
North of Battaglia Terme there is the Castello del Catajo. The large, beautiful castle was built at the end of the 16th century and originally belonged to General Pio Enea degli Obizzi, after whom the howitzer was named. Over 300 beautifully decorated rooms and halls of the palace can be visited on a guided tour. From the terrace you have a wonderful view over the Euganean hills all around.