Abano Terme
Spa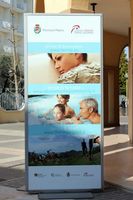 Spa fun & recreation
Abano Terme
Spa town with historical significance
Only a few kilometres south of Padua there is the largest of the thermal spas in the Euganean hills: Abano Terme. Abano Terme is probably the most famous spa in Europe. Its skyline is dominated by many large spa hotels, which all have their own thermal spring bathing and beautiful thermal areas. Despite the immediate vicinity of Padua, the city is still dominated by the greenery and numerous excursion opportunities in the Euganean hills, not to mention three golf courses in the surrounding area, offer a welcome contrast to the bustle of the city.
Attractions in Abano Terme
The importance of thermal sources for the city is also reflected in the historical significance of some hotels. Located in the centre of the pedestrian area of Abano Terme is the Grand Hotel Terme Trieste e Victoria, which was built in 1913. It took on the additional name of Victoria (Victory) at the end of the First World War because the ceasefire with Austria-Hungary was arranged in the hotel. Opposite you'll find one of the oldest hotels in the city, the Grand Hotel Orologio. Shortly after the pedestrian zone there is the Parco Montirone. Here are the city's oldest thermal wells, gushing with hot water at 87 degrees. The nearby art gallery is also worth seeing as it has a collection of paintings starting from the 15th century.
In the northern area of Abano Terme is the Cathedral of San Lorenzo with its beautiful medieval belfry and trachyte façade. Right next to the cathedral you can admire the Piazza del Sole e della Pace, a 300m2 large horizontal sundial – it is one of the largest in Europe. Also worth seeing is the Villa Bassi Rathgeb from the 16th century with some valuable frescos and paintings as well as the Mask Museum (Museo Internazionale della Maschera) in the Villa Saviolo Trevisian with its beautiful collection of masks in the style of the Commedia dell'Arte.
Surroundings of Abano Terme
The church of Madonna della Salute can be reached in a leisurely stroll or drive 3 kilometres west of Abano Terme in Monteortone. Inside the church there are numerous frescoes and an altarpiece by Palma the Younger. Of particular interest is the constantly bubbling hot fountain inside of the church.
You have a beautiful view over Abano Terme from the monastery of San Daniele in the southwestern hills near the city centre. The climb itself, however, constitutes a little hike and should be treated as such. Sports enthusiasts can enjoy the natural beauty of the Euganean hills during a bike and hiking tour or on one of the three surrounding nearby golf courses (Club Frassanelle, Club della Montecchia and Club Padova).