Russi
Archaeological site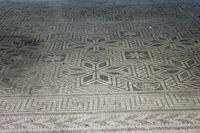 Villa Romana
Russi
Archaeological complex of the Villa Romana
Rich-in-history Russi is located southwest of Ravenna. It allows breathtaking insight into Roman times. The first discoveries were already made in 1939 when thermal facilities were found on the site of the archaeological complex of the Villa Romana. Continued excavations on the more than 8,000 m² large site began in the 1950s unearthing staggering finds. In what has become one of the most important Roman country houses of Northern Italy, the villa was probably the main building of a large manor predominantly supplying agricultural and stock-breeding products to the Roman fleet in the port of Ravenna.
Fascinating insight
Conclusions about a division between manorial and industrial area can be drawn from the Villa Romana as the latter area was likely monitored from the main living quarters through large doors. Preserved murals depict plants, small animals and replications of mosaics. Several finds, such as various clay containers, are exhibited in Ravenna's Museo Nazionale.
All around the Villa Romana
Palazzo San Giacomo, which only got its present look in the 17th century, is located near Villa Romana. Russi's historic town centre features remains of a medieval castle, an art gallery and a ceramics museum. The area surrounding the excavation site has since been declared a natural park.
Opening hours
Monday 09:00-16:00 |
Tuesday 09:00-16:00 |
Wednesday 09:00-16:00 |
Thursday 09:00-16:00 |
Friday 09:00-16:00 |
Saturday 09:00-16:00 |
Sunday 09:00-16:00 |