Faenza
Place of Interest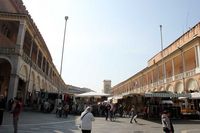 Centro Storico
Faenza
Capital of ceramics production
The gigantic halls lining the motorway already give away what Faenza is famous for. The 55,000-inhabitant town is all about ceramics. It is furthermore home to a fascinating museum of ceramics featuring local and international craftsmanship. Commodities and objets d'art made from clay ceramics have been glazed and painted in Faenza ever since the 14th century. Several workshops allow visitors to look over the shoulders of master craftsmen.
International Museum of Ceramics
The Museo Internazionale delle Ceramiche is dedicated entirely to the production of ceramics. Faenza's role in the world of ceramics is highlighted extensively, its most famous single export being the so-called Bianchi di Faenza or faiences (coming from "Fayence", the French word for Faenza). Faiences depict biblical or mythological scenes adorned with delicate ornaments and coated with a strongly opaque tin-glaze. The museum equally documents the international history of ceramics showcasing Asian, Arabic and European exhibits ranging from antiquity to the 20th century.
Other sights
Faenza, however, is more than just ceramics. City life happens all around Centro Storico, Faenza's historic town centre, stretching across Piazza della Libertà and Piazza del Popolo lined by a large fountain and several prestigious buildings constructed between the 16th and 19th century. It is also the location of Cattedrale San Pietro, which was initially planned as an early Renaissance building, yet only got finished 100 years later. The front remained incomplete. Among the masterpieces of this era is the Arca di San Savino. It is home to the tomb of St. Savino, whose story is depicted in marble reliefs.