Palazzo dei Diamanti
Palace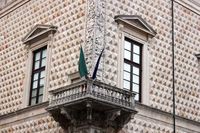 Palazzo dei Diamanti
Palazzo dei Diamanti
Rossetti's masterpiece with art gallery
The 1.5 kilometres long Corso Ercole I d'Este is lined with numerous palazzi worth seeing. Amongst those Biagio Rossetti's masterpiece, the Palazzo dei Diamanti, sticks out. The front consists of more than 12,000 marble blocks that were stacked on top of each other in the form of diamond pointed ashlars. In order to avoid an overwhelming effect with this type of massive design, the rock tips were aligned varyingly: downward at the foot of the building, horizontal in the middle and upward towards the top. The palazzo started in 1493 on behalf of Sigismondo d'Este, brother of Duke Ercole I, found epigones all over Europe.
Pinacoteca Nazionale
The Pinacoteca Nazionale, home of Ferrara's world of painting, is located in the former living quarters of the Piano Nobile exhibiting important works from the 14th to the 17th century. These include Cosmè Tura's two cycloramas depicting the capture and the martyrdom of St. Maurelius with almost rough realism. Further exhibits include frescos and paintings by Garofalo. Among the most impressive works is the "Polyptychon Costabili", painted around 1514 in cooperation together with the renowned Renaissance painter Dossi Dossi, depicting the enthroned Madonna with saints.