Cattedrale San Giorgio
Cathedral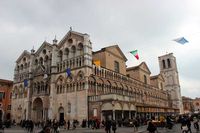 Cattedrale San Giorgio
Cattedrale San Giorgio
Fascinating mixture of styles
Construction of the Cattedrale San Giorgio originally began in the 12th century. It was set out to be a Romanic sacral building dedicated to Ferrara's patron saint George in 1135. However, the building was only finished two centuries later resulting in a fascinating mixture of styles. Gothic elements – pinnacles, rosettes and ambulatories – ornate the richly adorned marble front. The grand main portal depicts the dragon-killing patron saint on the tympanum and scenes from the New Testament on the epistyle. These depictions are credited to master Niccolò. The gable resting on three pointed arcades features a depiction of the Last Judgment. It comes as little surprise that the presence of the Este is noticeable in this building. A figure of Alberto d'Este as a believer in pilgrim clothing can be seen on the side of the right portal.
Renewed interior
The cathedral can be accessed via a 17th century atrium that originated from bringing up a new wall after an earthquake. The former five-nave matroneum church now exhibits a baroque style. Francesco Mazzarelli renewed the Cattedrale San Giorgio at the beginning of the 18th century by constructing three hefty transepts and three domes. Benvenuto Tisi contributed two frescos of the apostles Paul and Peter. The painter also known as Garofano is also responsible for the "Madonna Enthroned with Saints" in the third chapel of the left aisle. Bastiano is the artist behind the apse fresco, a depiction of the Last Judgment.
Around the cathedral
The 15th century Loggia dei Merciai is located on the south side of the cathedral. There are still some shops operating in the roofed shopping arcade. It is also the location of the Campanile, a freestanding bell tower. Leon Battista Alberti is the man behind the unfinished Renaissance building started in 1442. The Museo della Cattedrale, however, cannot be found on the grounds of the cathedral. It is located in the Via San Romano. Among its exhibits are the organ doors by the Este court painter Cosmè Tura and 12th century Labours of the Months from the sculptor school of Antelami.