Ro
Place of Interest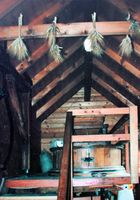 The Mill on the Po
Ro
Agricultural centre with the Mill on the Po
Ro, about 20 km northeast of Ferrara, is located in close proximity to the right shore of the Po River only five metres above sea level. Being one of five municipalities with the shortest place name in Italy (the others being Lu, Ne, Re and Vo), the region has been consistently affected by severe flooding over the course of its history. These days the village focuses on agriculture. Ro is home of the Mill on the Po, a replica of a water mill from olden days according to a novel by Riccardo Bacchelli.
The Mill on the Po - Inspired by Riccardo Bacchelli
Centuries ago the Po River was lined with numerous water mills. A detailed replica of such a mill was constructed in the floodplain forest of Ro inspired by "The Mill on the Po" by the Italian journalist and writer Riccardo Bacchelli. The mill is home of the Museo del Pane with a permanent exhibition about Ferrara's bread culture.