University district
Palace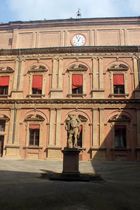 Palazzo Poggi
University district
Teatro Comunale
Bologna's students meet on Piazza Verdi northeast of the city centre. Here, in the heart of the university district, Teatro Comunale opens its gates for opera fans and concertgoers. A lavishly decorated temple of muses hides behind the time-honoured façade that was renovated in the 1930s and also serves as a backdrop for student city life.
Guided tours on enquiry
Palazzo Poggi
Palazzo Poggi already became the seat of Bologna's university life in the early 19th century, Napoleon's era, replacing Archiginnasio. The palace added onto Cà Grande dei Malvezzi in mid-17th century had already served scientific purposes before. There are several small museums dedicated to such diverse fields as mathematics, anatomy and astronomy, mechanics, and science amidst student facilities. The anatomy section with its realistic wax models of the human body absolutely needs to be visited.