Via dell'Indipendenza
Shopping street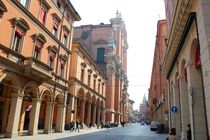 Famous shopping street
Via dell'Indipendenza
Bologna's shopping dream
Shopping aficionados get (and spend) their money's worth in Via dell'Indipendenza. The long, highly frequented shopping street connects Piazza Maggiore and Piazza del Nettuno with Bologna's main train station. Numerous Italian and international designers present clothes and shoe fashion in old, quaint buildings that mainly date back to the 19th and early 20th century. Even the handicraft sector has found a small home here.
Sights along the road
Culture buffs find something along Via dell'Indipendenza as well. Teatro Arena del Sole and a bronze statue of Giuseppe Garibaldi, for example, are situated around the halfway mark. There's also San Pietro, Bologna's cathedral with a particularly storied history. The original building was destroyed by a fire in the 12th century, the arch collapsed in 1599 during renovation works as the alterations proved to be too extensive. Today's cathedral disposes of a particularly majestic interior with elaborate baroque stylings. An abundance of glorious works of arts lines the naves.