Basilica di San Giacomo Maggiore
Church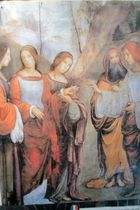 Fresco
Basilica di San Giacomo Maggiore
Augustinian church with late Romanesque face
Basilica di San Giacomo Maggiore, originally constructed in honour of John the Good (Ital. San Giacomo Maggiore) starting in 1267, marks the entrance to the university district. Over the course of centuries the church saw numerous reconstructions and extensions. Its late Romanesque façade lined with a portico with 36 Corinthian pillars is the oldest part of the building. The cupola, however, was built during the Renaissance.
Gloriously adorned chapels
With its beautiful frescoes and a number of ostentatiously decorated chapels, the interior visibly dates back to the Renaissance and the baroque. Cappella Bentivoglio is the last resting-place of one of Bologna's most influential families. Votive paintings by Ferrara's Lorenzo Costa and Anton Galeazzo Bentivoglio's striking tomb are particularly worth seeing. Giovanni Poggi's chapel reflects the cardinal's weakness for abundant decoration and fine arts. The monumental frescoes right and left of the altar are widely regarded as masterpieces of Bolognese painter Pellegrino Tibaldi.
Opening hours
Monday 08:00-12:30 | 15:30-18:30
Tuesday 08:00-12:30 | 15:30-18:30
Wednesday 08:00-12:30 | 15:30-18:30
Thursday 08:00-12:30 | 15:30-18:30
Friday 08:00-12:30 | 15:30-18:30
Saturday 08:00-12:30 | 15:30-18:30
Sunday 08:00-12:30 | 15:30-18:30