Piazza Maggiore
Square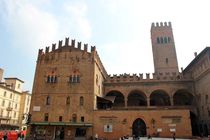 Main square of Bologna
Piazza Maggiore
At the city's social hub
When the Bolognese arrange a meeting, they frequently say "Ci vediamo in piazza". They mean Piazza Maggiore, still the city's social hub due to its central location. It is the former seat of Bologna's most important authorities and used to be a marketplace until the 19th century.
Starting point of many city tours
Piazza Maggiore's ideal location is perfect for city walks and round trips. Many fascinating sights can be found directly at the Piazza, such as the imposing Gothic Basilica di San Petronio, Piazza del Nettuno with the Fountain of Neptune and a series of ostentatious palazzi. Even the fascinating Museo Civico Archeologico is only a brief walk away.