Seis
Place of Interest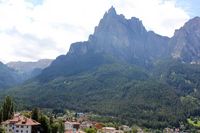 Town below the mountain Schlern
Seis
Holiday resort at the foot of the Schlern massif.
Only a few places in the Dolomites are situated as spectacularly as the former farming village of Seis. The small town is directly beneath the cliffs of the north-western tip of the Schlern massif. Apart from the impressive location, there are relatively few attractions in Seis. However, the site has, in addition to numerous hotels, pensions and restaurants, an excellent tourist infrastructure and scores well especially with the sporting highlights of the region. Hiking, mountaineering, rock climbing, mountain biking and paragliding in the summer, and skiing, cross-country skiing and snowshoeing in the winter.
A worthwhile destination for hikers is the ruins of the castle Hauenstein in the woods above the village. The castle, from the 12th century, once belonged to the poet Oswald von Wolkenstein, but was abandoned after the Peasants' War in 1525 and has been deteriorating since then. From the ruins you can easily reach Bad Ratzes and its healing spas. Also noteworthy are the wood carvings of the artist Robert Winkler. You can find his works, mushrooms and legendary figures, above all in Laranzerwald forest and along the mythical path between the ruins of the Salegg and Hauenstein castles.