San Martino di Castrozza
Place of Interest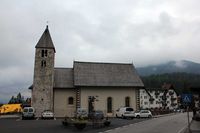 Parish church
San Martino di Castrozza
Idyllic winter sports centre in the Primiero Valley
In a fantastic location directly below the Pale di San Martino there is the major tourism centre of the Primiero Valley: San Martino di Castrozza. The popular resort hosted only a simple hospice for a long time until it was more or less discovered by tourism. Nowadays, on the Lagorai mountains, east of San Martino, beautiful slopes and trails can be found. Climbers and mountaineers enjoy the climb to the Pale of San Martino. In the village of San Martino di Castrozza itself you can still find the clock tower, the last remnant of the medieval hospice. The original structure was reconstructed into a fortress by the Austrians and abandoned in 1915. Back in the 19th century, the Austrians turned the place into a tourist centre. Many holidaymakers hang out here in the small town particularly in August and at Christmas time.
Surroundings of San Martino di Castrozza and the Primiero
From the centre you can directly reach the peak of the Pale di San Martino by a cable car, which offers its visitors a wild romantic mountain landscape 2600 metres above sea level. A few kilometres south is the capital of the Primiero Valley, Fiera di Primiero – a village almost cut off from the outside world, which has been developed only recently by tourism. Noteworthy sights include the late Gothic parish church and the Habsburg Palazzo delle Miniere, which houses a small museum of the history of the Primiero. A little further up the valley there are the ruins of Castel Pietra, one of the most charming castles in Trentino.