Pieve di Cadore
Place of Interest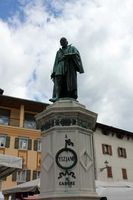 Statue of Titian
Pieve di Cadore
Old capital of the Cadore Valley
Pieve di Cadore is the old capital of the Cadore Valley. In former times the whole Cadore Valley was administered from the Palazzo della Magnifica Comunità Cadorina on the Piazza Tiziano. Even today the palazzo is still an eye-catcher. There is also a monument to the famous painter Titian in the Piazza Tiziano. Tiziano Vecellio, the real name of the famous painter, was born in Pieve di Cadore. His birthplace is now a museum containing not a single one of his paintings. The only work of Titian in his home region, "Madonna with Saints", is located in the church of the village of Pieve Pozzale just above Pieve di Cadore. In Pieve itself and its neighbouring village Calalzo you will find works by Titian's cousin, Cesare Vecellio, including the "Last Supper" in the parish church of Pieve.
Surroundings of Pieve di Cadore
In the immediate vicinity of Pieve the Dolomite mountain range of Marmarole is situated – one of the loneliest and most beautiful rock formations in the Dolomites.