Kastelruth
Place of Interest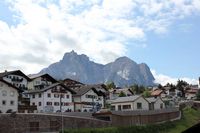 Fantastic scenery
Kastelruth
Popular tourist destination and home of the Kastelruther Spatzen
The village of Kastelruth (Italian: Castelrotto) is known, particularly in the German-speaking world, because of the folk music group Kastelruther Spatzen. However, beyond this fact, Kasetlruth is a very nice resort with excellent hotels and good leisure facilities. You can have a very good holiday with the stunning view of the Seiser Alm and the Schlern mountains. The perfect hiking area of the Seiser Alm and the numerous winter sports possibilities have expanded in recent years and brought many tourists into the area. Short-term bookings are often very difficult especially in high season.
Attractions in Kastelruth
The old centre of Kastelruth has been preserved to some extent. Here you can find some beautiful exterior frescoes on the walls of old houses. The landmark of Kastelruth is indisputably the free-standing bell tower with a huge Baroque onion dome. The tower was built in the mid-18th century and was at that time already completely oversized for the small village. A small road leads from the centre directly out to the adjacent Calvary. A good 30 minutes' walk takes you around the mountain and to visit the chapels.